OST2PST Tool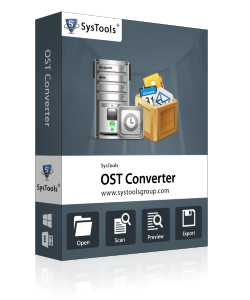 Crash in Microsoft Exchange Server is a critical situation for any organization and to overcome such situation demands highly talented external software. With Advance OST Recovery software, you can do the needful.
Microsoft Exchange Server- A Serious Issue: Microsoft Exchange Server is a difficult situation in front of any organization but whatever the matter, resolution is an ultimate need. Now, this Microsoft Exchange Server crash is caused because of large number of reasons which make OST files in unusable state. To make them usable is difficult; however one solution is that convert unusable OST files into usable PST files which will hold all the data like calendars, contacts, emails, journals, to do list, etc. It means same OST data in PST format. This is amazing, as you will be able to get hold of data but in PST format. After conversion, you can use that data to fulfill organizational needs.
OST2PST Tool: The need for such OST 2 PST Tool arises when, in your large enterprise, one day you find Microsoft Exchange Server corruption and this reason averts you to use OST files. Is it possible for you to work in absence of Exchange Server and in absence of OST files? The answer would be no. With this eminent OST2PST tool, you can convert OST data to PST and can further carry out business tasks.
Conclude the Software after Free Demonstration:
If you get the chance to experience this OST2PST converter software, then definitely you would like to grab such opportunity. You would be happy to know this application is available in freeware edition, which helps to judge the software; you will see live OST to PST conversion process and this help you in analyzing the capacity of the software, preview the converted OST file data into PST. You are not allowed to save the converted data and for that buy the Export OST2PST tool in full edition.
Area of Expertise:
OST to Outlook 2010 Converter has praiseworthy features; some are listed below:
Software supports all Outlook editions like 2016, 2013, 2010, 2007, 2003 etc.
This application can convert OST data to PST, OST to EML and OST to MSG.
The software maintains original formatting of HTML and RTF.
This OST2PST application is efficient to recover OST items like calendars, tasks, notes, journals, to do list, contacts, attachments etc.
Software can save messaging environment so that it is possible to access emails.
Even after user account deletion, this OST2PST tool can convert OST data to PST.
Software helps to scan selected OST files and then can convert OST2PST.
You can preview the recovered e-mails.
User-friendliness of the software increases and helps to use the software even by non-technical users with same ease as technical skilled user.


OST2PST Software in Full Pro Edition: You can have this application in complete mode, which is available for you in three licenses like in Personal, business, and Enterprise license.
Free Helpdesk Services: We come across difficulties with the usage of the software like in working process or confused regarding cost of the software and such difficulties become hurdle in smooth pathway of conversion. You can contact free consultancy services 24X7 without any hitch. All your queries are warmly welcomed and you will get up to the mark solutions the same moment.